---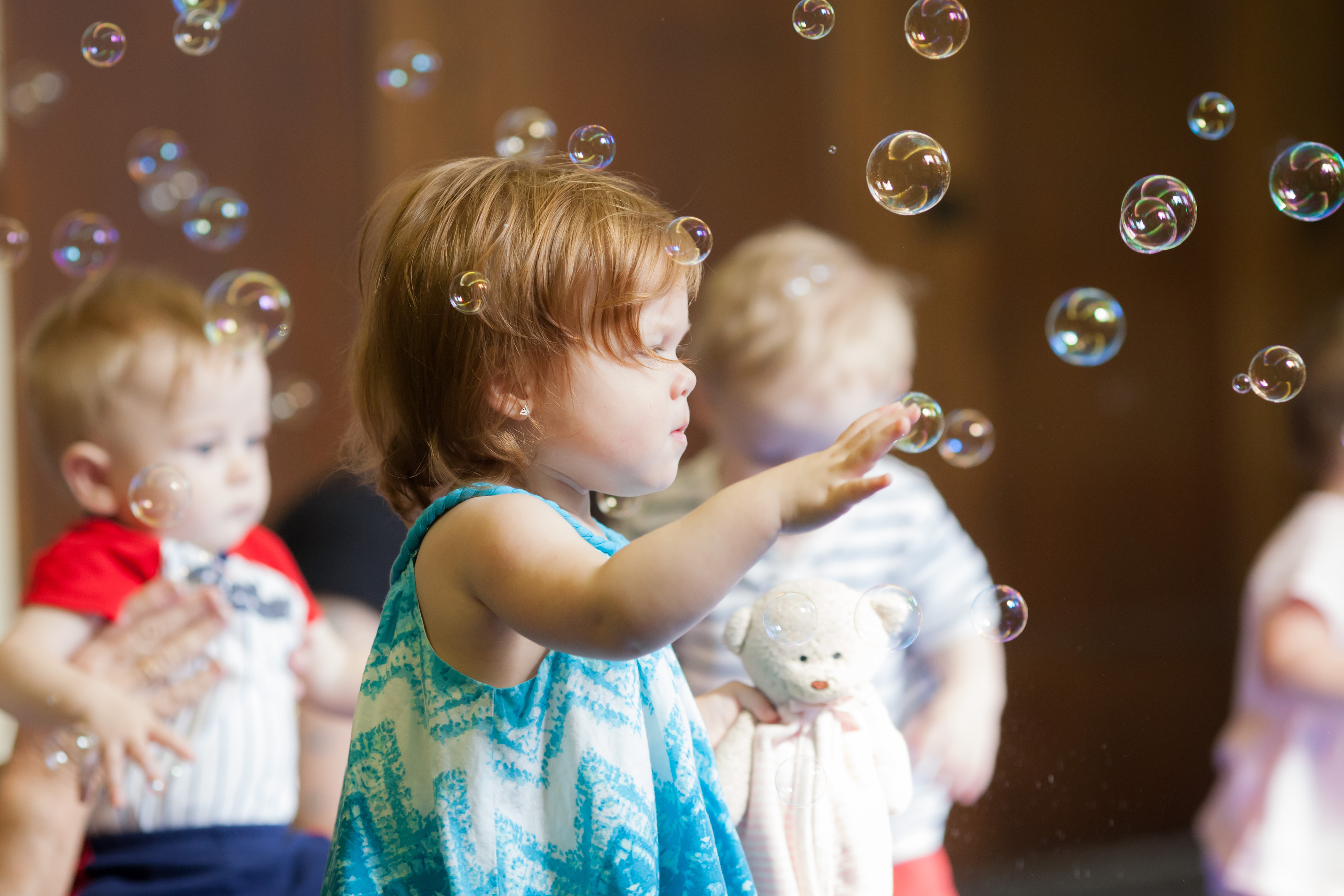 We love for you to experience what a Kindermusik class is like before you commit to joining us! Free Preview Class Week meets the week of August 26.
In our music classes for toddlers, babies, big kids, and families, we sing, dance, giggle, hop, travel on imaginative adventures, cuddle, play instruments, share ideas, read stories, celebrate the uniqueness of each child, and more! As a trained and licensed Kindermusik educators, we lead the class through music and movement activities with proven developmental benefits that include boosting early literacy and language abilities, social-emotional skills, cognitive development, and gives children many opportunities to practice fine- and gross-motor skills in a fun, loving community of families. Plus, throughout the Kindermusik classes, parents and children enjoy those special one-on-one moments bonding together.
Kindermusik isn't just a weekly music class. The learning and memory-making last throughout the week. The music classes intentionally include resources for families to use together outside of class, including the music, story, and activities as well as the developmental insights behind them. Connecting the classroom learning to those "everyday" moments supports a parent's role as a child's first and best teacher. In addition, the repetition throughout the week strengthens the neural connections in a child's brain and gives children more confidence in the classroom. (And, of course, it's fun for the whole family!)
Babies Preview classes (for children up to 23 months)
Join us for free preview before our school year classes begin. This class is for babies up to age 2. A Level 1 class, we focus on using music through the first two years to help a child's brain develop! The techniques and developmentally appropriate activities include instrument play, lap bounces, finger plays, dances, prop and movement activities and vocal play. So much packed into one 45 minute class.
Tarentum, Monday August 26 at 5:30pm or Tuesday August 27 at 11:00am
Murrysville, Tuesday August 27 at 5:30pm or Wednesday August 28 at 11:00am
Sarver, Thursday, August 29 at 5:30pm.

2's, 3's, and 4's Preview classes (for children ages 2-4 and their grownups and siblings)
Come join us in a free preview class as we sing, dance, play instruments, learn about how music can help our children develop through loving and playful activities. This class is similar to Level 2 and Level 3 classes, where parents participate the entire 45 minutes. Experience the delightful benefits of Kindermusik and learn ways to help parenting become easier and more joyful!
Tarentum, Monday August 26 at 6:30pm or Tuesday August 27 at 10:00am
Murrysville, Tuesday August 27 at 6:30pm or Wednesday August 28 at 10:00am
Sarver, Thursday August 29 at 6:30pm.
To register for a Free Preview in Tarentum, click here and scroll down.
To register for a Free Preview in Murrysville, click here and scroll down.
To register for a Free Preview in Sarver, click here and scroll down.

Please note - while we love to offer free previews, we cannot guarantee spaces in September classes will be available after this preview. If you have a class choice that you are interested in, we would recommend grabbing that spot now in addition to your free preview. If you decide after the preview that the September classes are not a fit for you, you may easily withdraw from September classes. Otherwise, it's a win-win starting with a free class! This class is specifically a preview for families new to our program. Thank you.